Old Warmian House today
Currently, the house is owned by Instytut Kształcenia Zawodowego (Institute of Vocational Education) Sp. z o.o. in Warsaw, the founding organisation of the Warsaw School of Computer Science (WSCS).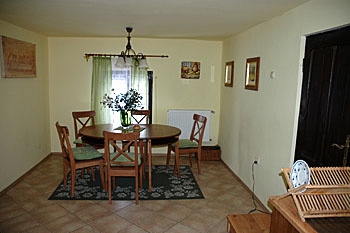 House description
The house has the total area of 352 m2. The house consists of:
cellar, laundry room, drying room and boiler room with an oil boiler
nine bedrooms with bathrooms
two living rooms (an old and new one)
two kitchens (an old and new one)
hallway
3 halls (on the first floor)
wardrobe room
WC (by the new living room)
storage room (attic)
Fixtures and Fittings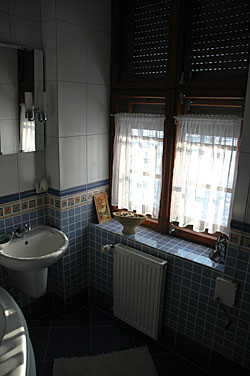 The house underwent complete modernisation in 2005-2009. Modernisation included the installation of new heating and sanitary systems, attachment of separate bathrooms to each bedroom, renovation and installation of wood flooring, installation of anti-burglary shutters in all ground-floor windows, installation of roof windows, arrangement and furnishing of all rooms.
The house is equipped with a Viesmann high-capacity oil boiler used for heating sanitary water and heating installation. Additionally, there is an electric boiler a small coal heater. The heating and sanitary installations were replaced in 2009. The sanitary installation was equipped with an ecological household sewage treatment plant, situated underground in the area of ca 300 m2, in the immediate vicinity of the house. There are two gas stoves supplied from a gas cylinder and an old, working coal stove. All rooms have immediately serviceable furniture, kitchen appliances, etc. The house is equipped with two fireplaces (in both the old and new living room).
The renovation preserved the unique ambience of the old Warmian house..
Functions
The house is currently used by the WSCS for creative work, including training courses and seminars. It was visited by several professors from the WSCS and other universities. The house may serve as a guest house or a private residence. There is a possibility to build an additional pavilion in the house surroundings, for tourist or conference purposes. Here is a report from a 2002 conference as an example:
Conference in Skajboty, 26-30 August 2002
The first international discussion on computer science curricula at the Warsaw School of Computer Science was held on 26-30 August in Skajboty near Olsztyn
The meeting was attended by:
- Professor H. D. Dahmen from the University of Siegen, Germany, with a long tenure as a professor at MIT in Boston
- Professor S. Romanowski
- Professor J. Kempa
- A. Stajniak Ph.D.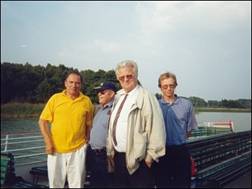 From left: Professor J. Kempa, Professor S. Romanowski, Professor H. D. Dahmen, A. Stajniak Ph.D.

The meeting inaugurated a cycle of annual meetings to verify our curricula and adjust them to European standards as well as to promote the Warsaw School of Computer Science. As it is widely known, computer science is a rapidly developing field of knowledge. What is seen as innovative today will have been below accepted standards within ten years. Therefore, we need to verify our teaching plans in computer science on an on-going basis. We are furthermore challenged by Poland's accession to the European Union and anticipated emergence of branches of prestigious US universities in Europe.
This year, the discussion concerned so-called theoretical subjects, namely mathematics and probability theory in statistics. Also, the participants started sharing their views on programming languages, which will be discussed in detail next year.
We were satisfied to conclude that computer science curricula implemented at the WSCS are fully compliant with curricula developed in Germany and the US, in the 3- and 3.5-year studies system. The curricula were designed to enable the undergraduates of the WSCS pursuing MA courses at universities they chose.
We parted, full of hope that our graduates would soon show up at European universities, continuing their education there.


House surroundings
The house is situated on a plot with the total area of 14 ha, separated with two fences, an external fence enclosing the entire area of 14 ha, and an internal fence in the house surroundings, enclosing the area of ca 1.5 ha. Within the internal 1.5 ha plot, there are outbuildings for housekeepers, with a small stable providing box stalls for two horses, an outdoor pool and a kayak dock by the Kiermaz river. In the external plot, there is also a natural pond with the area of ca 500 m2. In the internal plot, there is a 400-year-old oak – a natural monument, and two over 200-hundred-year-old lime trees. In front of the house there is a 15-m original solid tree trunk table. The house is equipped with a motor boat and two kayaks.
The house, along with the surrounding area of over 14 ha, is a perfect place to protect total privacy for its inhabitants and their guests.